Hitchhiker's Guide to the Vail Galaxy of Resorts: Part 2 of 3
January 16, 2020
By Jim Kenney
PugSki Travel Correspondent
[Author's note: this is an update of a three-part article originally written for PugSki.com two years ago. In addition to updating, it has been repositioned for easy reference in the new Articles Section of the website.]
In
Part 1
of this series I relayed that I've been fortunate to ski numerous mountains in the Vail portfolio, especially over the past five years. I am sharing insights from my time at all of them, including economical lodging suggestions, free or inexpensive resort services/activities, and tips on where to find the best ski terrain. In the last two years Crested Butte has been acquired by Vail Resorts, Telluride has become a cooperating resort on the Vail Resorts Epic Pass, and Arapahoe Basin has discontinued their participation on the Epic Pass. Part 2 of my discussion covers Keystone, Crested Butte, Telluride, and Park City.
Keystone
I skied Keystone for nine days in March 2015. I also made visits there twice before in the 2000s. I've learned to appreciate the mountain. It may not be the steepest and deepest, but several nice attributes make it an excellent destination for the right guest, such as abundant and scenic intermediate terrain, night skiing (rare in the US West), and a huge terrain park. Keystone also has excellent synergy with nearby Breckenridge and the burly local's favorite Arapahoe Basin (now on the IKON Pass for 2019-2020 season). I think Keystone also offers slightly more affordable slopeside accommodations than many other Vail resorts.
Keystone's A-51 Terrain Park; photo by Jim Kenney
I have used VRBO to catch fine spring deals in the attractive condos at the newer slopeside River Run Village at Keystone. You can save even more if you consider some of the older condo and motel properties in nearby Dillon. As mentioned in my Breckenridge discussion, the density of vacation homes in Summit County makes it a good area for solo travelers to look for inexpensive rooms through Airbnb. The entire county is served by the free Summit Stage bus system, which could eliminate the need for a rental car for those so inclined.
PugSki member @bamaman
cruising Starfire trail on North Peak; photo by Jim Kenney
There is good free parking at the Keystone River Run base and this provides excellent access to the mountain via the River Run Gondola and the Summit Express Chair. On busy weekends and holidays the Powerline and North Shuttle Parking lots also provide free parking and shuttle service. The River Run lot even furnishes little wagons to wheel your gear to and from the lifts.
If you need to purchase single or multiday online lift tickets from Keystone because you don't have an Epic Pass, it can be less expensive than many other Vail Resorts. For example, a four day midweek ticket purchased online and seven days in advance from the Keystone website costs $464. It would provide four of six days at Keystone, or two days at Keystone and up to two days at Vail, Beaver Creek, or Breckenridge. A similar four day ticket for Vail would cost $612. And Keystone includes night skiing. Those other areas don't.
Tres hermanas above the Outback; photo by Jim Kenney
When staying near Keystone, I'm often in condo mode and use local supermarkets for supplies to dine in. However, I remember making repeated trips to Murphy's Food and Spirits in Silverthorne for good and inexpensive fish dinners on Fridays during ski season. Butterhorn Bakery/Cafe in Frisco is good. Between the neighboring towns of Dillon, Frisco, and Silverthorne, there is a glut of dining choices, and the vibrant restaurant and pub scene at Breckenridge is less than 15 miles from Keystone.
The Keystone trail layout includes 3,148 skiable acres spread across three mountains. All three mountains feature fine intermediate-advanced terrain, but with different nuances. Dercum, the front mountain, specializes in excellent and long (~2,300 vertical ft) intermediate slopes including Schoolmarm, which on a quiet day is one of the best and prettiest low-intermediate runs in the US. The second mountain, North Peak, offers fine spring bump skiing on empty trails like Geronimo. The third mountain, the Outback, features a collection of great tree runs such as Pika and Timberwolf. I believe Keystone still runs an inexpensive à la carte snowcat operation ($10 per ride) from the top of the Outback on select days offering single black diamond skiing that is ideal for off-piste neophytes looking for a manageable taste of the backcountry. Check with the resort to confirm this.
Timberwolf trail, photo by Jim Kenney
One gorgeous spring day in 2015 my wife (a non-skier) and I took an affordable and very scenic snowcat ride at Keystone ($48 in 2020) . We had a really fun afternoon. The tour lasted about 75 minutes and we climbed as high as 12,000 ft in a swanky snowcat. The driver was personable and stopped a couple times to let us get out and enjoy sweeping views of the Front Range while he shared local history. Afterward, we spent another hour dining al fresco at the mountaintop Outpost Lodge. Gondola rides from the River Run base to the departure point of the cat ride at the summit of Dercum Mountain and over to the Outpost (elevation 11,660 ft) are included in the price of the cat tour. It was an outstanding opportunity for my wife to experience Colorado's high alpine environment.
Keystone scenic snowcat ride; photo by Jim Kenney
Crested Butte
Crested Butte joined the Vail Resorts family in the summer of 2018 and I made my first ever visits there in 2019. I went for a couple days in February and liked it so much that I went back again for three more days in early April. 2019 was a huge snow year throughout much of the US West and The Butte was in great shape for both of my visits. When everything is open it is a place where a black diamond skier can easily enjoy a week of exploring. As a senior I also appreciated the opportunity to frequently relax on the nice array of intermediate runs in moderate crowds for both of my visits.
View of Crested Butte peak (elevation 12,170') from Silver Queen chair, photo by Jim Kenney
I stayed at the Grand Lodge Crested Butte for both my visits. This is not exactly a hitchhiker's lodging choice, but sometimes good value/location trumps the bottom-line. This surely enhanced my guest experience as the Grand Lodge is a very nice property and a level 200 yard walk to the lifts. Our second visit to Crested Butte coincided with April closing weekend festivities and it was a ball to become pseudo-locals while immersing ourselves in the free and crazy on-slope merrymaking.
Closing weekend pond skim, photo by Jim Kenney
The advanced terrain at Crested Butte is really special. It's primarily accessed by three lifts, the Silver Queen Express Chair out of the base area, the High Lift t-bar near the summit of the mountain, and the North Face Lift t-bar along the northern flank of the mountain. You can't really lap the two t-bars, but you can do them in succession. Then it takes three lift rides to get back to the highest of the two, the High Lift. To get to the best black diamonds off the Silver Queen Express Chair requires a long traverse over to various chutes such as Banana and Funnel on the western flank of the mountain.
The Headwall is accessed by the High Lift t-bar, photo by Jim Kenney
Once I got a feel for the place I actually grew to enjoy the disjointed layout. The spread of the expert terrain at Crested Butte means that you'll often have to ski a few groomers to get back to the most challenging stuff and that gives you a chance to recover and plot your next attack. After getting off the High Lift t-bar on a quiet Friday in April my son and I spotted some hikers heading to the summit and we spontaneously decided to join them. It's about a 15 minute climb above the highest lift served point on the mountain, and entails about 325 vertical feet. The 360 degree views from the 20' by 20' pinnacle are stupendous and I highly recommend it if you're there when ski patrol permits this little adventure.
Dropping the summit cornice. Photo by Jim Kenney.
I eventually skied most of the black diamond chutes on the front/western face below the summit, but for our run from the very pinnacle we took the traverse all the way to Funnel. Funnel chute chokes down to a narrow area called Deep Throat and there's a huge rock cliff that borders the entire right side of the run. This will stand as one of the prettiest and most memorable runs of my ski career and consisted of nearly 3,000 continuous vertical feet of double black diamond terrain.
Funnel chute at Crested Butte. Photo by Jim Kenney.
It was the people, the environment, and the terrain that made Crested Butte so fun for me. I really liked that the place was not mobbed for either of my visits. We had a kitchenette in our room at the Grand Lodge and made a lot of meals there, but we also checked out the town of Crested Butte and enjoyed a great breakfast at the Paradise Cafe. The town has a certain quaintness and folks seemed friendly. During my second visit over closing weekend the locals were in complete party mode. I love the youthful vibe that all the college kids from Western Colorado University bring to the slopes. This region is slightly off the Colorado I70 beaten path and is exceptionally beautiful in a bucolic sort of way.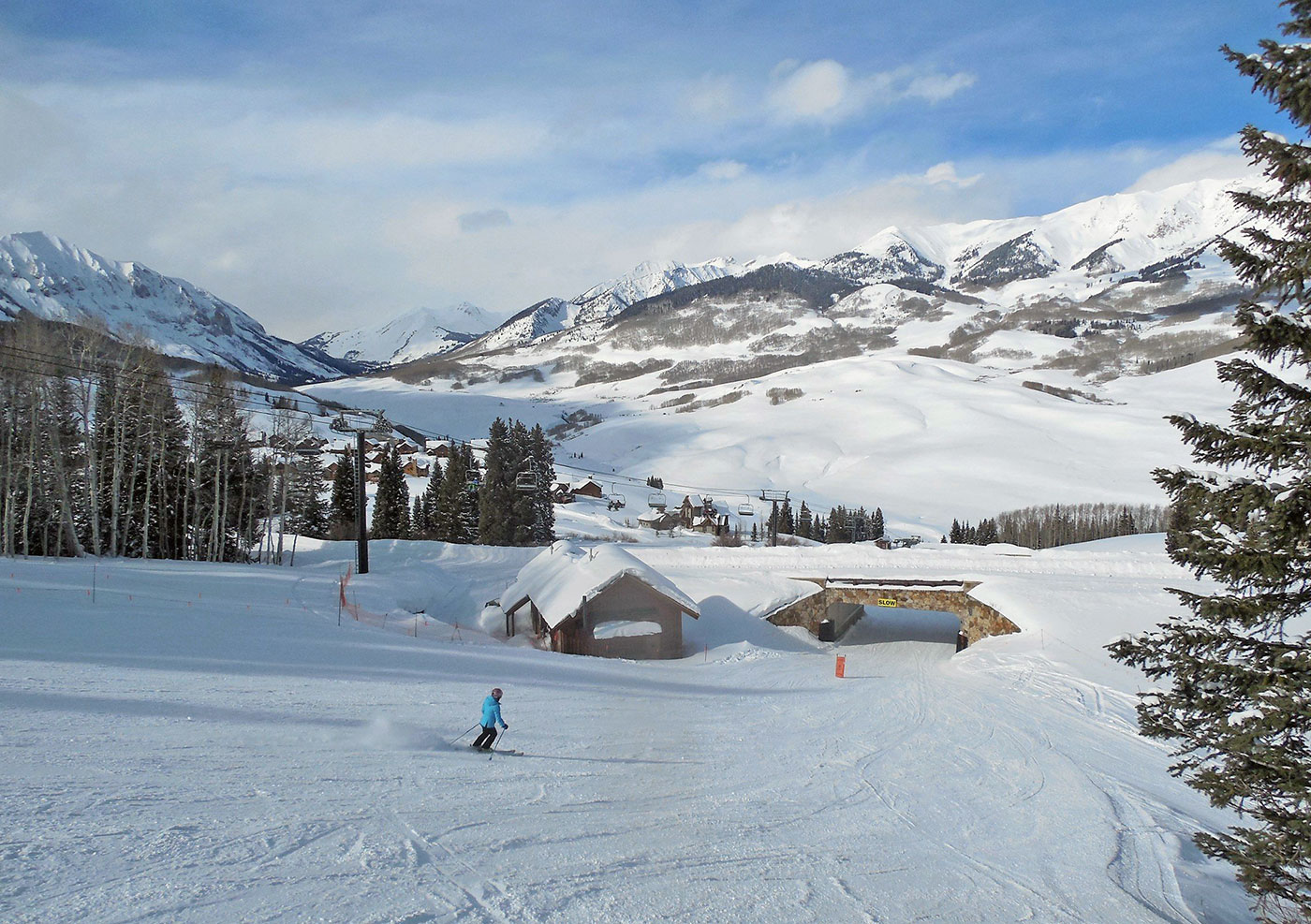 The view north beside the Prospect lift at Crested Butte. Photo by Jim Kenney.
Telluride
I arrived for my first ever visit to Telluride late on an April night in 2019. The next morning when we awoke there were three inches of new snow and it continued to snow on and off during the day, totaling perhaps seven new inches. Nice welcome mat! Some of the upper aspects of the mountain skied really deep and I don't think the temperature ever broke 30 degrees. It was like a February storm day, but there were no people. The crowds on that spring morning were some of the lightest I've ever seen at major ski area.
Gold Hill Chute 1, photo by Jim Kenney
Our moderately priced accommodations for this visit were in the town of Telluride at the Victorian Inn. It's an older property about one block from the gondola and features an outdoor hot tub and free continental breakfast. The town gondola is long, scenic and free because it is used as a transport system for visitors between the town and Telluride's on-slope mountain village. We had exactly one night to gain an impression of the town of Telluride. We ate a simple meal at Baked in Telluride, a bakery/sandwich shop that was quite affordable. We walked the streets a bit before dusk and the steep canyon scenery boxing in the town is as pretty as a picture.
Strolling in Telluride, by Jim Kenney
Telluride has a well balanced variety of terrain including 127 runs and 2000 skiable acres. The sun came out for our second day and temperatures rose to about 30 degrees. I enjoyed the open and "just right" single black diamond pitch of Revelation Bowl. It was even more fun than the day before because of the improved visibility.
Sloppy seconds in Revelation Bowl, photo by Jim Kenney
The hike-to terrain at Telluride's upper elevations is spectacular. From the top of the Revelation chair I hiked to Gold Hill Chute 6, which took me about 20-25 minutes. I'm sure locals do it much faster. There were many folks continuing higher to a wicked looking set of steps toward Palmyra Peak, elevation 13,320'. Chute 6 was excellent and while hiking there I enjoyed a good long look at legendary San Juan Chute. It was being skied by numerous backcountry skiers during the day.
Gold Hill Chute 6 is the little chokepoint in the left-center, photo by Jim Kenney
From my brief visit I'd say the transport "G" gondola from the town to the mountain village is one of Telluride's best free perks. Non-skiers or others who have the time and want to see the mountain on a day when they don't have a lift ticket/pass should definitely take advantage of this lift. My non-skiing wife joined us on the gondola during our second afternoon and we dined on reasonably priced lunch sandwiches at the Altezza Restaurant in the Peaks Resort at the mountain village. Altezza is elegant, quiet and features immense table-side windows with to-die-for views of southwestern Colorado's San Juan Mountains. If you ride all the stages of the Telluride gondola it's about 13,000' in length in each direction and restaurants like the Altezza for lunch or Allred's (elevation 10,551') for dinner make fine pit stops along the way. If you're staying in the mountain village the gondola is your obvious means for visiting the town of Telluride for sightseeing and après ski.
View from Altezza, photo by Jim Kenney
Probably my two biggest motivations for ski travel are the fun of checking out interesting/challenging ski terrain and soaking up beautiful mountain views. Telluride scores really high in both categories. Based on my quick visit I thought the best lift served black diamond terrain was off the Gold Hill chair. I skied a steep shot called Crystal on Black Iron Ridge after a short hike from the top of the Prospect chair. I didn't hang around the Plunge chair much, but I'm sure a local could give me a good lesson in double black diamond tree skiing there. For scenic views Telluride probably ranks in my top three of the 90 resorts I've skied in North America. It is one drop-dead gorgeous movie star of a mountain!
L-R: foreground Giuseppe's Restaurant (elevation 11,885'), background San Juan chute (out of bounds), and background Palmyra Peak (elevation 13,150', hike-to inbounds), photo by Jim Kenney
Park City
Park City is a great ski vacation destination. Among major US ski areas, its access (45 minutes) to an international airport is unrivaled. I skied it multiple days in different months in each of the last five winters. Perhaps its lone detraction is that it suffers just a tad in comparison to the powder-spoilt ski areas in nearby Little and Big Cottonwood canyons. Otherwise, Park City is the best all-around resort in Utah, featuring a booming ski town, 7300 skiable acres of varied terrain, and 41 lifts.
View from McConkey's Express chair; photo by Jim Kenney
Although it is among the top three largest ski areas in North America, in a February 2015 visit to Park City I was amazed to find one of the least-expensive near-slopeside bed solutions in the Vail galaxy of resorts. I slept 150 yards from the Payday Express chair in the men's dorm of the Chateau Après Lodge for $40 a night. This deal may only work for guys under 6 ft and 200 lb, as the bunks are old and tight, but ski bums, start your dieting now because this rate also includes a decent continental breakfast. (And they have a women's dorm, too.) See
here
for details.
The dorm at Chateau Après Lodge; photo by Jim Kenney
There are other, more conventional lodging bargains in the Park City area including moderately priced older condos and several chain motels in nearby Kimball Junction (approximately 5 miles north of Park City). There are a bunch of inexpensive dining spots in Kimball Junction, too, including fast food, pizza, Mexican, and the like. For informal, moderately priced meals, I like Squatters Roadhouse Grill on Park Avenue on the edge of town. If you're strolling on Main Street at Park City and looking for a good little lunch place, I can vouch for Cafe Terigo. The High West Distillery is also fun. If you're going upscale the Prime Steak House is great, but you will pay dearly for it. You'll need to make reservations for many Park City restaurants during busy times.
At 9 am, the Park City Sundance festivalers of late January are still in bed; photo by Jim Kenney
There is plenty of free parking beside the slopes at Park City, at both the Payday base area and the cabriolet lot near Canyons Village. I especially like the parking lot at the cabriolet, and it is a convenient option for day trippers coming from Kimball Junction or Salt Lake City.
As with great ski towns everywhere, one of the best forms of inexpensive entertainment in Park City is to just get out and walk the town, with its blocks of shops, bars, and restaurants. If you have a day off, the Utah Olympic Park/Alf Engen Ski Museum is 4 miles north of town and a worthwhile and economical outing. A ride on the Olympic bobsled course is one of its draws. Those who enjoy inspirational music can make a 40-minute après ski drive to downtown Salt Lake to catch more than 300 singers and musicians in the Mormon Tabernacle Choir's free Thursday night rehearsals. My wife is still humming songs we heard in 2016.
Mormon Tabernacle Choir practice; photo by Jim Kenney
My favorite advanced terrain at Park City, from left to right on the trail map, include the bumps of McConkey's, the chutes of Jupiter, the trees of Peak 5, the bowls of Ninety-Nine 90, the glades of Tombstone, and the off piste from Super Condor. Most days you'll find moderate to minuscule lines at all of these lifts. The new Quicksilver gondola very effectively connects the old PCMR and Canyons ski areas and serves its own secluded expanse of off-piste terrain called Pinecone Ridge.
The Peanuts gang on Charlie Brown trail near the summit of Ninety-Nine 90; photo by Jim Kenney
I do a lot of brown bagging for my ski lunches and my favorite place for that at Park City is on the scenic patio of the Summit House above the Motherlode Chair at an elevation of 9,250 ft.
While Park City provides what you'd call "resort skiing" with lots of wide, friendly groomers; when everything is open there is a month's worth of stuff to explore. Don't be put off by the idea that it is a busy resort. Those 7,300 skiable acres include a lot of lightly trafficked steeps and off-piste terrain.
Checking out Grande Trees hidden in plain sight near the Tombstone lift; photo by Jim Kenney
Coming soon,
Part 3: Heavenly, Kirkwood, Whistler-Blackcomb, and Stowe.