ExoticSkis
Skier
Industry Insider
Joined

Nov 18, 2015
Posts

266
Location
Coalition Snow SOS (2019-2020)​
129-105-109 r=25m @ 173cm​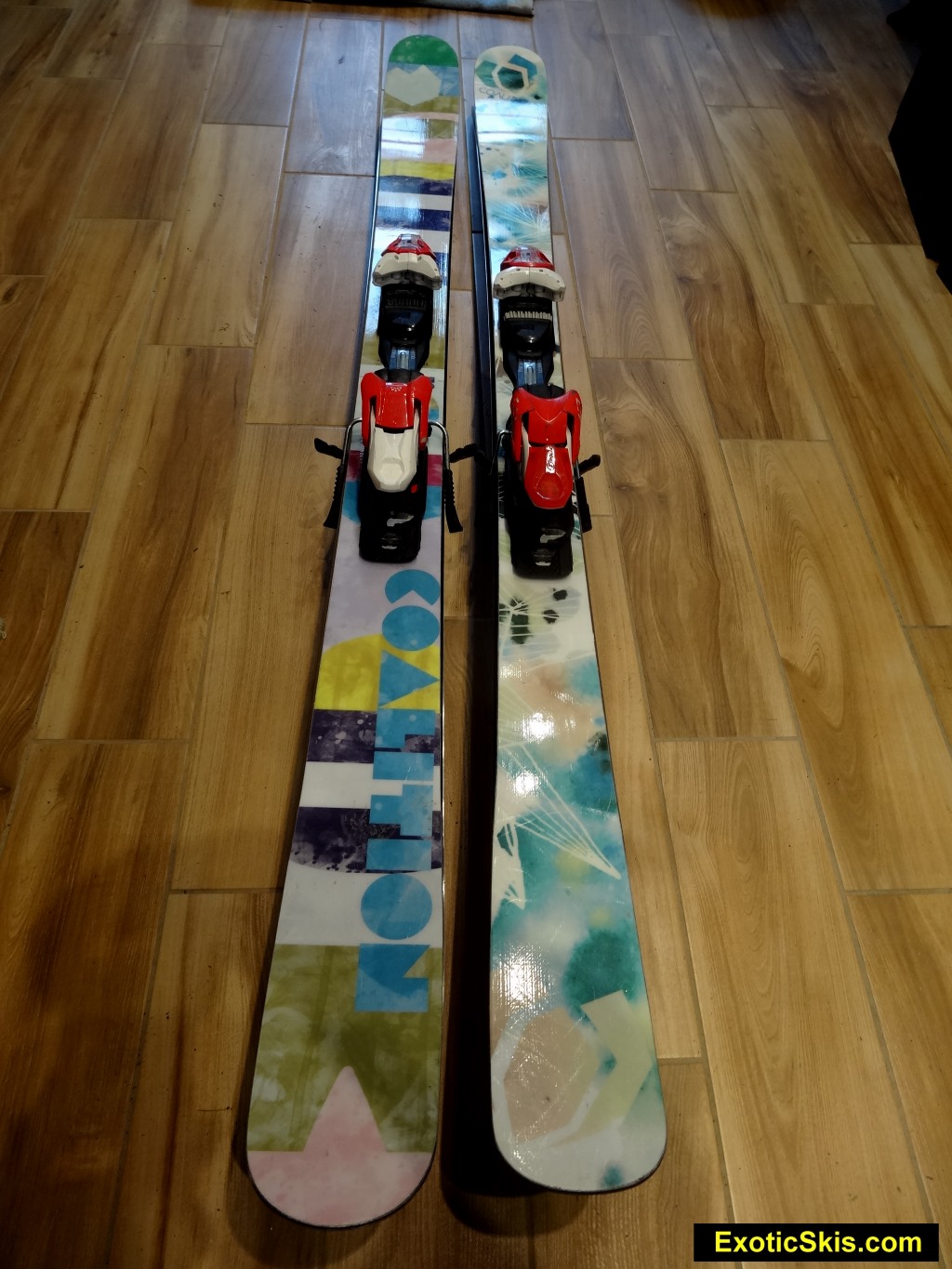 Coalition Snow SOS (L) and Rebel (R)



Manufacturer Info:





Reno, Nevada 89502
1-775-525-8136
http://www.CoalitionSnow.com


[email protected]



Suggested Retail Price (MSRP):

$699 usd

Usage Class:

All-mountain freeride

Rating (with comments):
(1="get me off these things"->10="I have to own a pair")

6+: Technical hardpack or packed powder carving
8-9: Mixed surface conditions, crud busting & bumps (low to moderate speeds).
8-9 : Powder (low to moderate speeds)

Background:

Coalition Snow was co-founded in 2014 by Jen Gurecki (CEO), who is an impressive powerhouse of activism, energy and inspriration. Coalition snow is the first ski and snowboard company created by women, for women. As stated on her LinkedIn page: "Jen Gurecki is the co-founder and CEO of Coalition Snow, a women's outdoor equipment and apparel company designed to deconstruct the status quo. Simply stated, Coalition makes women's skis and snowboards that don't suck. #sisterhoodofshred
She also founded Zawadisha, a social enterprise whose mission is to provide small loans to rural Kenyan women to finance their livelihoods. Zawadisha's model is soundly pro-poor, pro-woman, and pro-environment. #investinwomen Jen has a master's degree from Prescott College and dropped out of their PhD program when she realized that being a CEO was more productive than being a grad student. She spends her evenings recording the podcast Juicy Bits and recovering from her 70-day cycling trip across Africa (where the idea for Sisu Magazine was born). She was recently featured on the CNBC show Adventure Capitalists where she turned down a $1 million offer from Bode Miller, and is a seasoned public speaker who delivered a TEDx talk in January 2016. Learn more at www.coalitionsnow.com and www.zawadisha.org."

Manufacturer's Description:

"A one ski quiver that will make everything feel as smooth as fresh pow. Like a good pair of jeans will go from the trails, to the dance floor, to the bedroom floor, the award-winning SOS all mountain women's ski transitions from couloirs, to groomers, to powder filled bowls, seamlessly. Rocker in the tip and tail provides smooth turn initiation and when paired with the mid-fat waist, it floats through ungroomed snow like a dream. Traditional camber underfoot means your edges will hold even on the firmest snow and a multiple radius sidecut gives you ultimate control over turn shape and size..

Winner of Powder Magazine's One of the Best Skis For Women
Recognized as one of the best skis for women by Powder Magazine"

- Website - 2019



Technical Ski Data (173cm):

Birch hardwood core

Slanted ABS sidewalls

Triaxial fiberglass

Cambered midsection, rockered tip and tail

1954 grams and 1925 grams weight (measured)
Manufactured in Asia.

100% Money-Back Guarantee within 14 days. Lifetime warranty on defects...Coalition Snow pays for warranty shipping costs.


Bindings, Boots & Waxe Used:

Tyrolia PRD Powerrail Adjustable Bindings
Salomon S-Max 120 boots.
Salomon S-Max 130 Carbon boots
GreenIce Waxes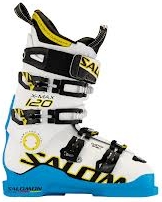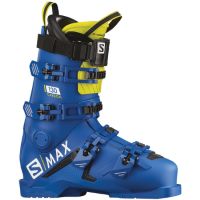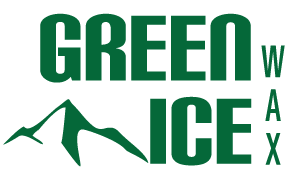 Pre-Skiing Impression:

Very nice fit-and-finish and a decent factory tune and wax treatment right out of the box (which many companies do not provide.) Moderately soft flex from tip to tail, stouter underfoot . Moderate torsional strength. Nearly snappy rebound, fairly damp, but lively. It feels like a fun-loving ski with a soft-riding bias rather than a crud-busting charger. Really attractive topsheet (all testers liked it and it got several positive comments out on the hill).

Test Conditions:

Eastern corduroy, shin-deep to knee-deep powder, packed powder, corn and hardpack groomers & boilerplate, ice, bumps, steeps and trees.

Summary:

Like so many other "all-mountain" ski designs from dozens of companies, the Coalition Snow SOS tries to hit that mythical "one-ski-does-it-all" target. We've found this "one-ski-for-everything" target lands inside two distict circles:

1) Directional, power-oriented cruisers with firm surface carving bias and moderately high speed limits and enough rocker to make entry and exit through soft-snow turns fairly fuss-free without diving behaviors (fontside ski fattened up and rockered for softer conditions) or;

2) Surfy, smearable, pivotable rides at low to moderate speeds with decently acceptable underfoot carving behaviors on packed surfaces when needed (powder ski given some more camber and sidecut shaping to get a more secure carving capability on packed powder surfaces).

The Coalition Snow SOS falls into the second, more surfy category, and it's a fun, mischievous ski with very low level of effort required to get lots of fun all over the mountain as long as you don't overski it into highest speed and pressure conditions reserved for a charging ski. They ski easily and feel slightly shorter than they measure, but have a super-friendly personality and are really fun when you don't feel like driving a serious ski in a serious way. This is what fun-loving skis feel like. On the SOS, you surf the mountain instead of cutting across it. You can feel a bit of flap and the shortened contact length of the rockered design at high speeds, but the agility and maneuverability in the trees, bumps and crud at low to moderate speeds makes up for these traits at warp-nine. Hard snow carving is decent by West-coast standards, and a bit lacking by East-coast standards, but the SOS is a soft-flexing, rockered all mountain ride rather than a highly directional, carving-oriented all-terrain ski...so adjust your expectations accordingly. Where the SOS works great is where the snow is fresh, or inconsistent, or cut-up...it simply doesn't care about the surface unless its rock-hard underfoot. You can carve a decent turn on packed-powder groomers, but the SOS really wants to go off-piste and venture into freish or mixed snow conditions for maximum fun-factor.

This is not a "female-specific" ski, but instead a unisex ski marketed through the lens of a woman-focused company. We had several men on the SOSs, and they all had the same opinion about them being fun-loving, surfy, soft-bias all-mountain rides for anyone. The distinctive personality of the SOS on the mountain with its cool graphics and story about Coalition Snow and its mission make it a solid choice for anyone looking for a surf-the-mountain-all-day ski with a great price,14 day 100% money-back guarantee and lifetime warranty against defects.

Hardpack and Boilerplate:

We didn't expect the soft-flexing, generously rockered SOS to excel on rock-hard surfaces here in Vermont with its 105mm waist, and we found the SOS was a bit slippery (but in a predictable way) on boilerplate in stock tune out of the box. A few runs of a diamondstone to sharpen the edges tip-to-tail helped a bit, but the chassis design and stock tuning specs really bias the SOS toward softer surfaces. If you regrind the base to get a sub 1-degree base bevel, it improves hard snow performance nicely, but you lose a bit of the excellent smearability of the ski demonstrates off-piste, as well as the ability to simply throw out some speed-scrubbing sideways drifts on-demand. The SOS carving traits come alive as soon as the ski gets to sink itself at least sidewall-deep into the snow, where it then carves nicely shaped turns with little effort and shows a surprisingly quick edge-to-edge behavior when needed. The SOS feels more like a daily Western driver than an Eastern driver, especially when the surface is hard as a rock and shows no tracks. The frequency control on hard surfaces is good, keeping the buzz and vibration to a minimum, although at high speeds on boilerplate surfaces, the SOS feels a bit busy and a little unsettled. The birch hardwood core telegraphs surface conditions to the skier nicely, and allows a quick transfer of power from boot to ski without being irritating or uncomfortable. If your trails are often rock-hard and you want a 100mm+ all mountain ski to carve rails into the surface, the SOS is not your first choice. If you find yourself on packed powder groomers during your outings, the SOS can deliver some carved arcs nicely at low to moderate speeds. High speeds on the hardpack reveal the SOS to feel a bit shorter than it measures (due to the generous rocker design), and you might get a bit of flap. It's possible to over-drive the SOS on hardpack, but if you find yourself doing that, you're driving a ski in conditions it was not designed to excel in.

Mixed Surface & Variable Conditions:

The Coalition Snow SOS thrives in variable snow conditions by letting the pilot surf across and over the surface with very little effort, while having excellent agility and maneuverability on-demand. Extremely high speeds across the cut-up tundra can reveal a bit of tip flap, but directional integrity is nicely maintained, and the SOS absorbs hits well without deflecting too much (buy the SOS one size up for higher-speed rowdiness in junk snow) The soft tip and torsional forgiveness up front tend to absorb the twisting hits of junk under the surface without suddenly taking the tip in an unwanted direction. By the time the midbody gets to the junk the tip passed over, you maintain your trajectory on the same line and get ready for the next turn. "Forgiving" and "fun" are the two words to describe the SOS in mixed snow conditions. Early morning powder surfiing leading to mid-day cut-up junk dancing and late-afternoon bump mashing is the schedule the SOS seems to be designed for. The SOS feels very light underfoot, despite its birch hardwood core, and it navigates easily through squeeky-tight trees and more open terrain with low levels of pilot input. The SOS was a blast in Vermont's tight treelines, while displaying a hint of busy-feeling instability at mach-schnell speeds in rough, open terrain, but totally fun and energetic at all times without beating up the skier. The SOS is smooth and creamy in pure powder conditions and is quick to dance through cut-up, cruddy or wacked-out surface conditions, so it seems to hit the mark Coalition was trying to hit. Nice work.

Powder Conditions:

We were fortunate this winter to have great powder conditions on a bunch of days, so we had some quality time on the SOS in fluff. While it's only 105mm underfoot (in 173cm version), the SOS feels totally at home in powder with its generous rocker up front, and gentle shaping. As we mentioned above, he SOS feels creamy in powder, easily drifting

Turn Initiation, Apex & Finish:

The SOS has the nicely loose feel of a moderately rockered all-mountain ski, so it's easy to tip it on-edge on firmer surfaces, or bank-it in soft snow with nearly zero effort. It feels shorter than it measures because the effective edge length is short from the rockered design, so once it gets a grip into the snow,it engages the turn sequence quickly. The 25m radius keeps things from getting too darty, so the quickly engaged turn doesn't get abrubt. You can wring tight or long-radius turns out of the SOS, despite its claimed 25m sidecut because it has that short effective edge. The SOS seems happy to bang out short quickdraw turns, or ride the edge in longer trajectories, which is nice. The edge-to-edge response is quick and light, with the tail being pretty sporty and energetic without being too demanding. Heavyweight or muscle-bound power driver-type skiers might overski the SOS, so back off the hard-driving technique and ski the SOS with a light and surfy style. The tail can be ridden-out for a long turn, or jumped-on for a quick ricochet finish.

Manufacturer's Mounting Position:

We mounted the SOSs on the recommended -2.5cm from centerline position and liked them on that mark. We tested behavior both forward and aft a few cm, and usually returned to the -2.5cm position.

Analogies: ("This ski is like...")

A MINI Clubman ALL4 convertible. So much fun in nearly any situation other than hard-charging hard-surface street racing where you want different hardware. Drop the top and head anywhwere...no maps, no GPS...you'll have a great time and want to go back out next weekend.

Notable Tester Comments:

Noel Lyons:

"Surf's Up! I hear the Beach Boys playing in my mind...."Let's go surfing now, Everybody's learning how, come on on safari with me!" When you drop into a powder pitch just let the Coalition Snow SOS skis answer the mountain's invitation to come snow surfing and enjoy riding the frozen waves. Here are some of the acronyms that come to mind while surfing the slopes:

S.O.S.
Source Of Strength: Female crafted with a heart and soul to dig deep, have fun, and leave great big signatures in your wake.

Salsa On Skis:
These skis love to dance and guide you with spice and rhythm through the bumps.

Saves Our Souls:
Coalition Snow reminds women to do what you love, love what you do!
Surfing the mountain on these skis nourishes your soul. These vehicles will inspire you to go places you've never been.

Sacred Old School:
These skis remind us that there is nothing new under the sun: but attitudes and innovation can change the way we look at things. The SOS ski is a solid wood core ATV vehicle that will deliver on or off the beaten path; reliable and responsive.

Sense Of Security at Speed.
The rocker keeps you floating at high speed down wide open powder slopes. Their dimension inspires maneuverablity on the harder packed or groomed runs. The SOS don't execute as well on Easern icy conditions but are well served in the powdery delights on the softer slopes of the more Western based peaks. They are great for the Western ski quiver and better saved in your Eastern ski line-up for those powder days, trips out West, or heli ski adventures.

Bottom line: These skis are Sass On the Slopes. Get your sass on with these boards which are gung ho to ride where your heart delights."

(Noel Lyons has been on the U.S. Ski Team 1976-1981, been an NCAA All-American, won a World Extreme championship, a U.S. Freeskiing Open skiercross, and a 24 Hours of Aspen race as well as being a ski tester for Ski Magazine and nominated to the Skiiing Hall of Fame in 2019)

Quick Comments:

Feels short for its length due the rockered tip and tail.

Fun and easy-handling all over the mountain, no matter what trail you take...just watch out for boilerplate and ice.

Be careful not to over-drive it...it doesn't need it or want it..relax and enjoy the ride.

Fun-loving, mischievious, quick and energetic when needed.

A little busy with some flap at high speeds when running flat on the bases.

Zero effort, super friendly, surfy and smeary with some bite underfoot when needed.
Things I Would Change About This Ski:

Perhaps stiffen it up slightly, or offer a "plus" model with a strip of Titanal or more VDS rubber.

Short Answer When Someone Asks "What Do You Think About This Ski?":

Surfy, fun example of what a well-balanced, softish, rockered all-mountain ski can be. Super easy, fun and energetic. Look elsewhere for a charging style ski or ice skate. Guys....This is NOT a "Woman's Ski". It's a unisex ski both men and women will enjoy. It's just sold by a woman-focused ski company. Heavyweights or muscle-heads will overdrive this ski.

What kind of skier is this ski good for and not suitable for?

Everyone from novices looking for their first 105+- waisted ski to all-mountain enthusiasts looking for a surfy, fun-filled playdate. Western skiers might find it great for daily driving. Eastern skiers will find it great for those powder days that get tracked-out so quickly, as well as several-day-old snow that's been missed by the groomers and settled-into a mixed-density surface. Tree skiers will find the SOS super fun and friendly with quick reflexes on demand.

Advice To People Considering This Ski:

Demo a pair in two sizes on your favorite terrain to fine-tune the selection to suit your style.
Consider a longer length for open terrain...these feel shorter than they measure.

Other Reviews:

Coalition Snow Website:
https://www.coalitionsnow.com/colle...s-all-mountain-womens-ski-chrome-pony-sunrise


So fast, so fun, so responsive
Katie on Feb 28, 2019

I volunteer on a ski patrol in the midwest. Last weekend I hauled a 275lb dude in a 75lb toboggan down an icy steep (for the Midwest) trail and the Rebels were totally solid.

The ski is super responsive and so much fun.

Thanks for making a killer product I'm super proud to ride!


So much fun!
Amy Brown on Jan 24, 2019

Woah!!
I had so much fun on these skis! I really enjoyed playing around in the groomer for a couple of weekends. Then Harper hit the east, and I really got a chance to play on them in a good dose of powder, with a pretty firm base. I can't think of a time I had more fun skiing at an east coast resort. These held up and were so playful from first lift to last run, and all the conditions in between. They never let me down, from the bumps, hard pack, and skiing in the trees. I can't recommend these enough. The hills of WNY might be short but my grin was so huge my teeth were cold.
I LOVE these skis so much!
Thank you, thank you!
Shred on

Fun, playful ski
Debbie Butts on Jan 07, 2019

Loved this ski. It is playful and very responsive. On a Black Diamond steep, putting this ski on edge, it carves beautifully across hard pack and groomed snow. Conditions were variable but the ski reacted positively and quickly while initiating turns and was fun while making consecutive short radius turns. It was also stable and quick on a variety of terrain. I would like to have tried it in the bumps, alas no moguls at this time.

Pics: (click for larger versions)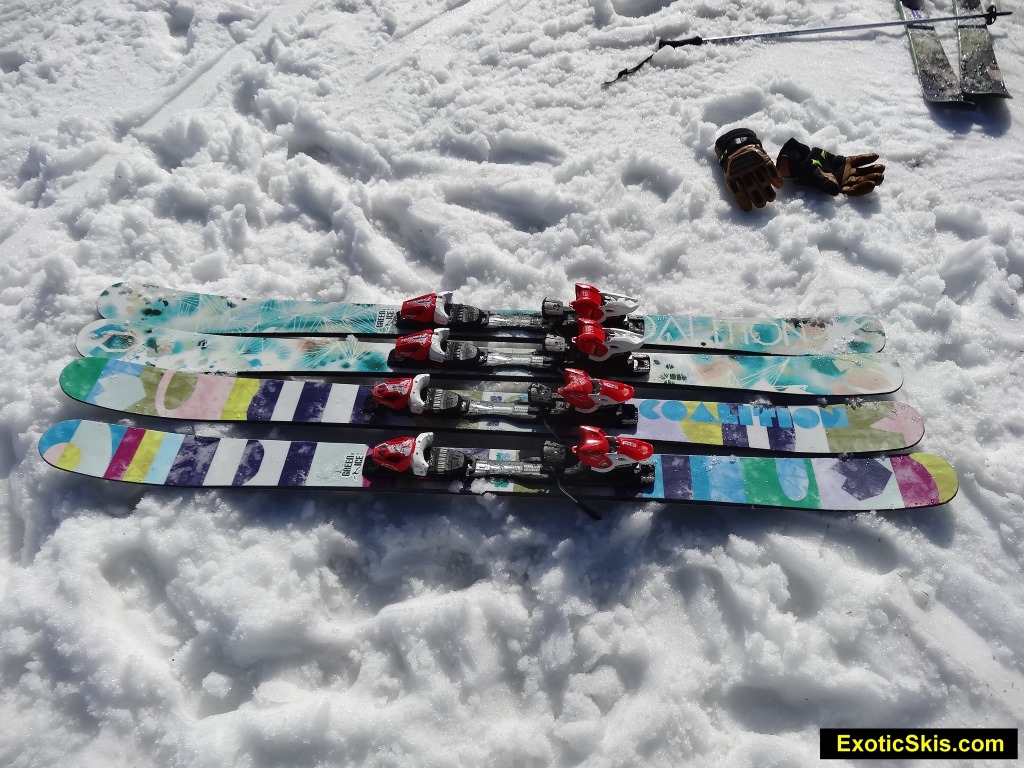 Coalition Snow SOS (foreground), Rebel (background)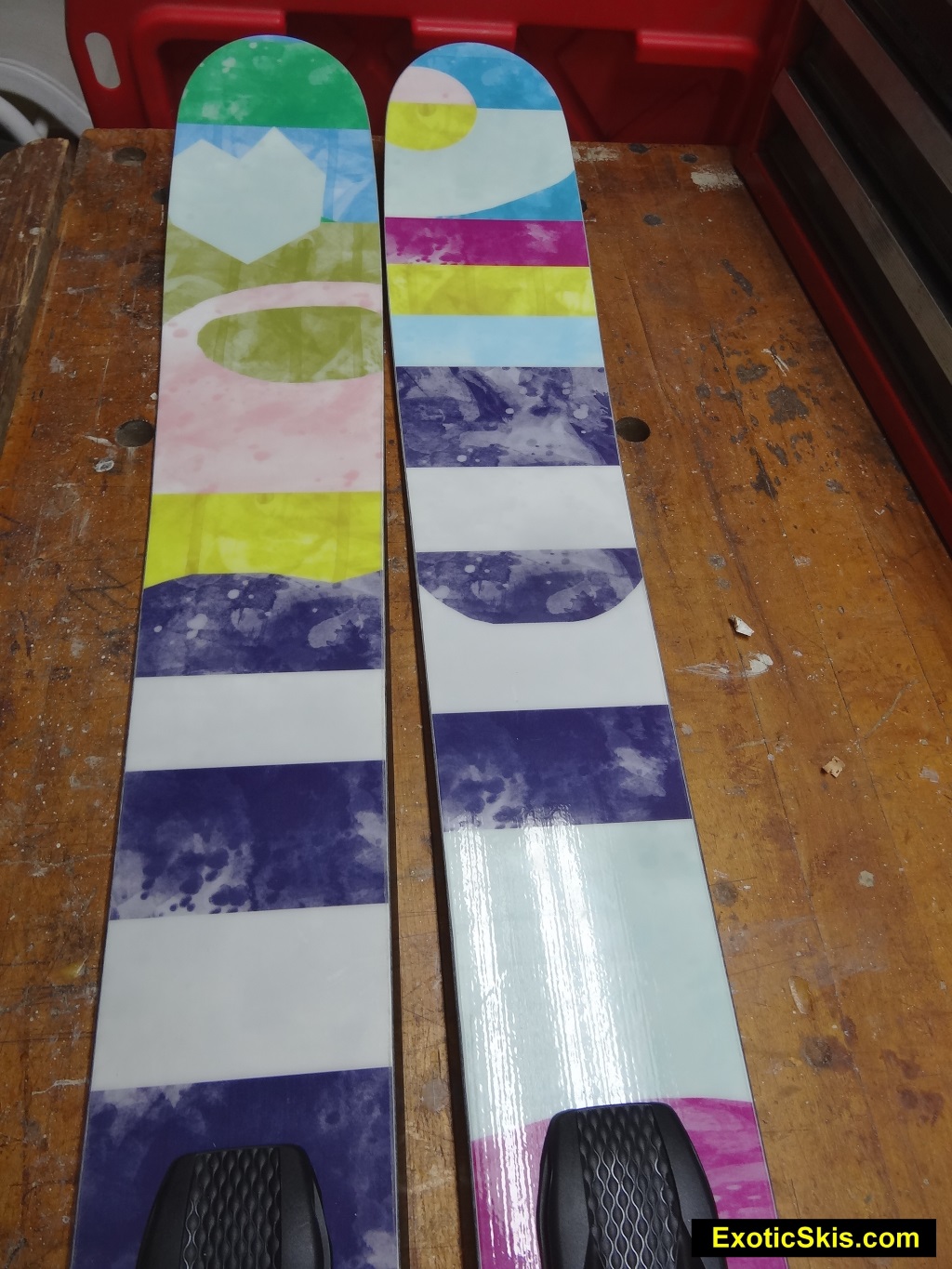 Coalition Snow SOS Forebody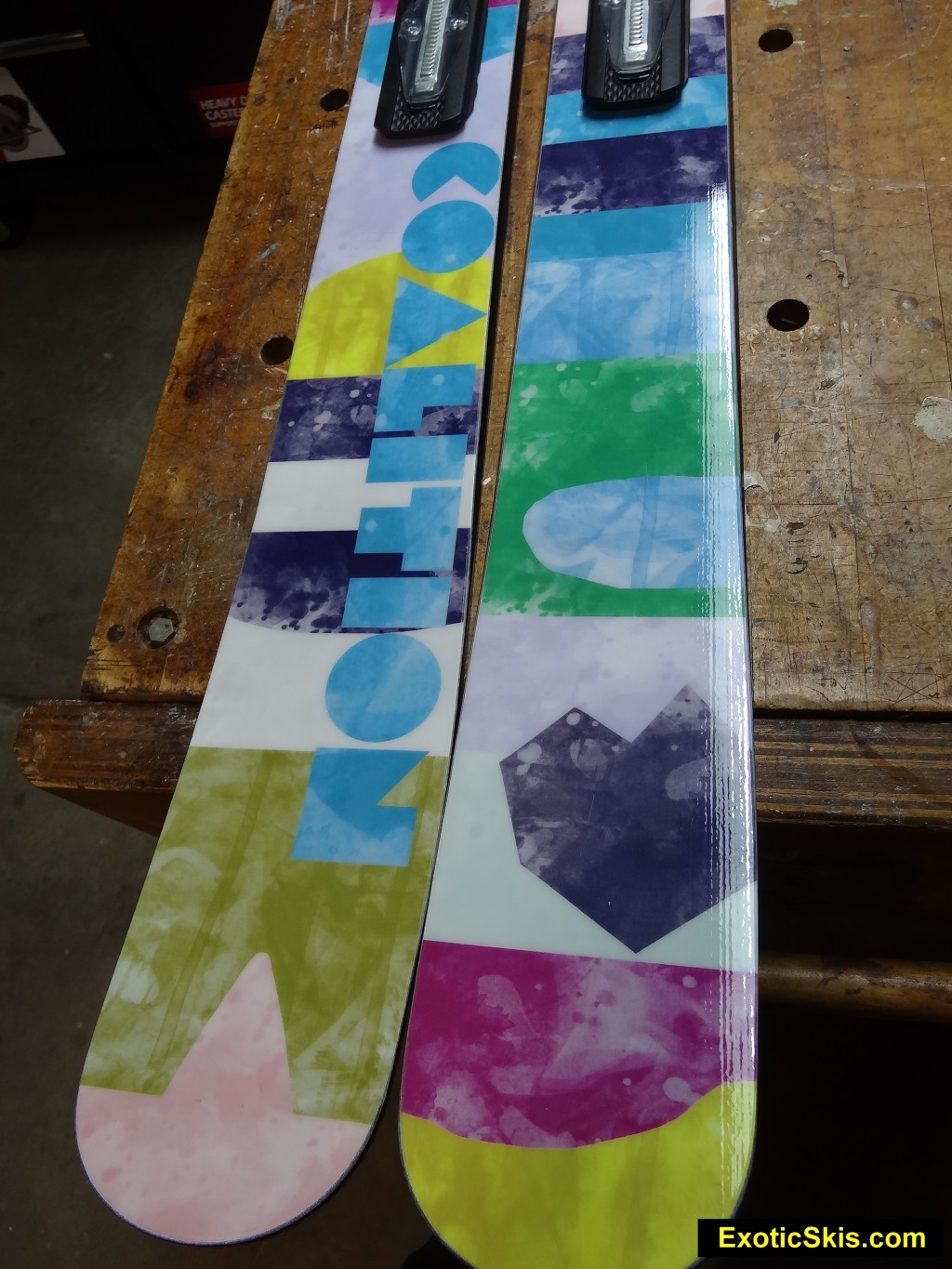 Coalition Snow SOS Tails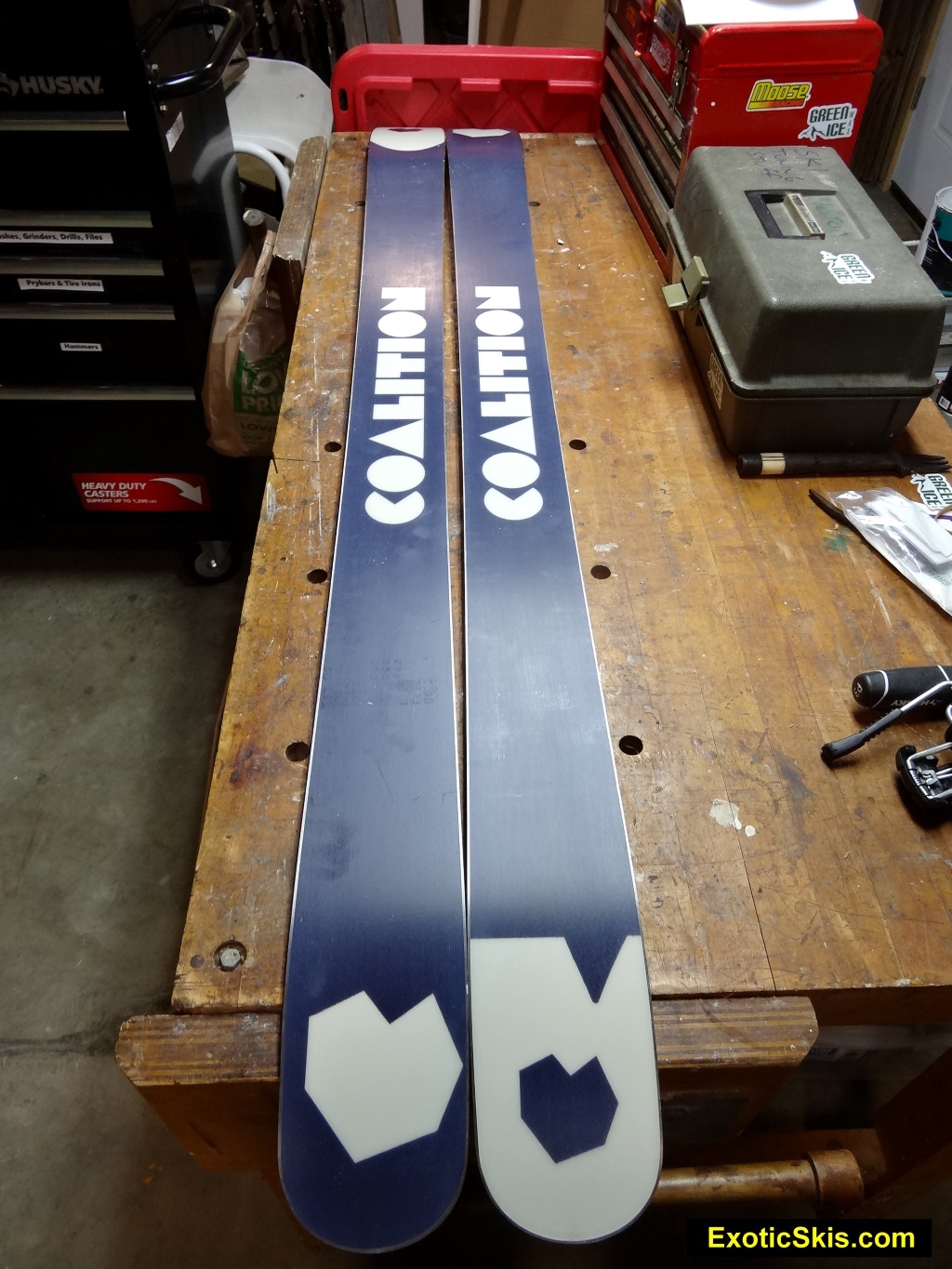 Coalition Snow SOS Bases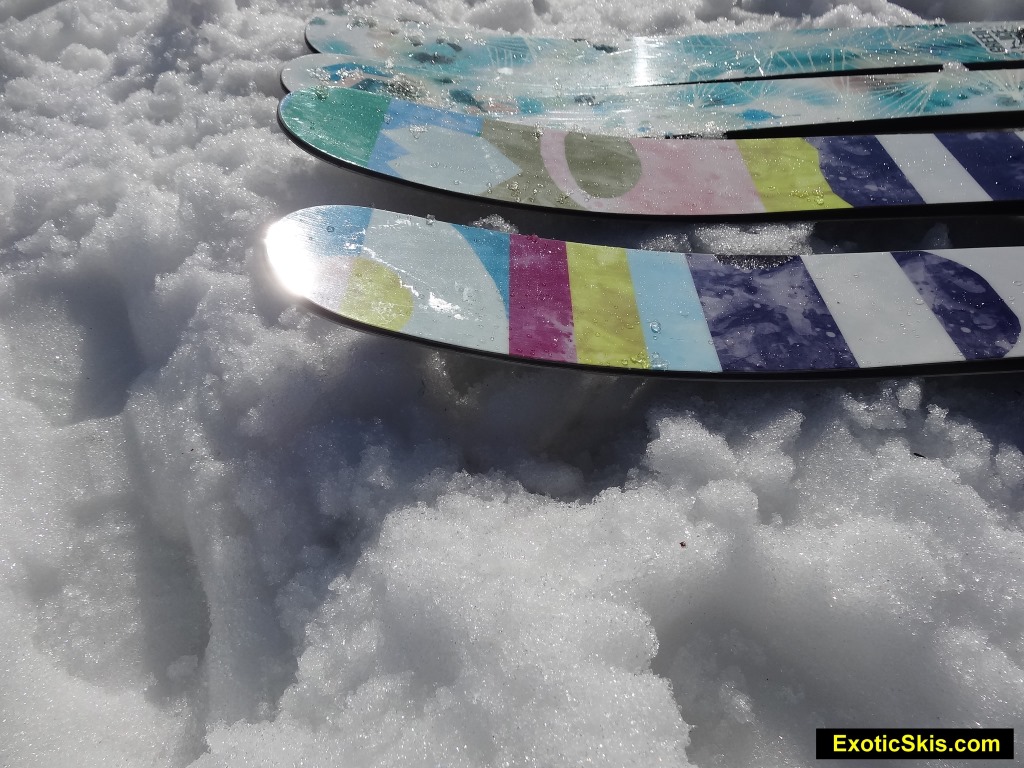 Coalition Snow SOS Tip Rocker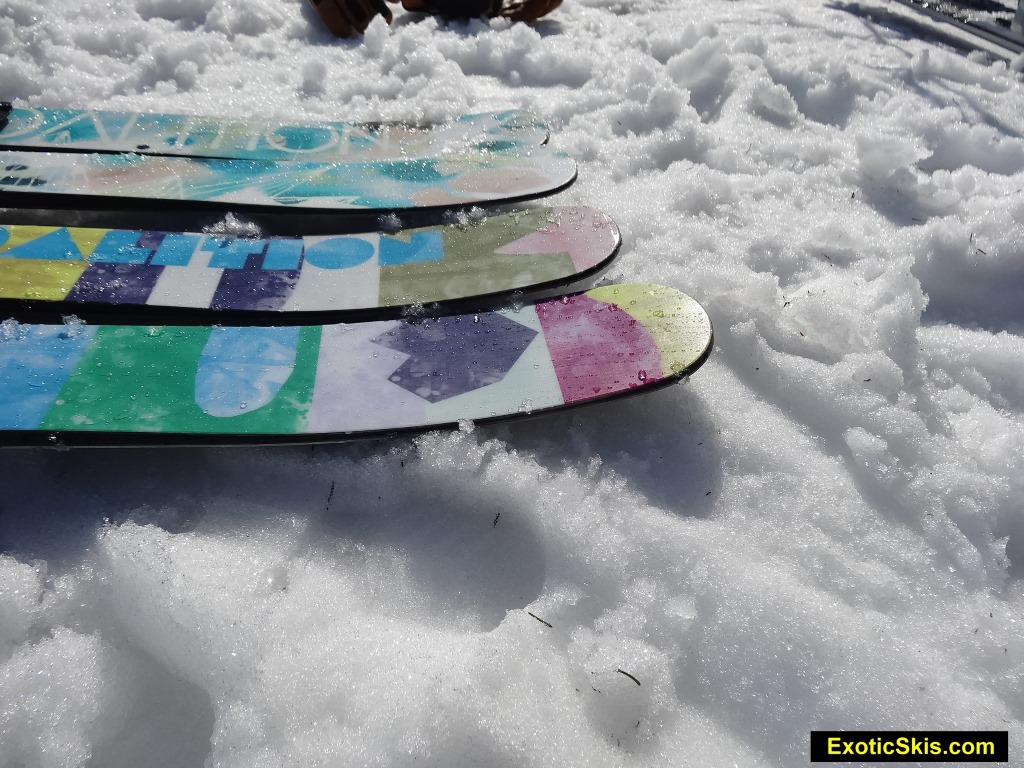 Coalition Snow SOS Tail Rocker
Last edited: