Seeking the next best ski
SkiTalk Tester
Joined

Nov 8, 2015
Posts

9,282
Location
Nordica Enforcer 100
Dimensions: 133-100-121
Radius: 18.5m@185cm
Size tested: 185
Design: All New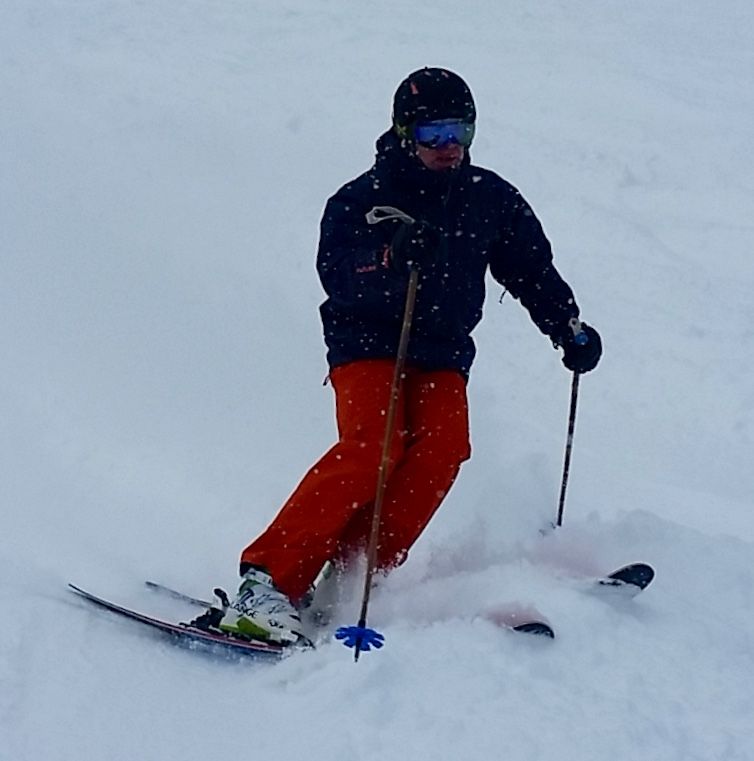 Summary:
Hype-worthy soft-snow ski. Ski it to believe it. Now give me a 90mm version please ....
Pros:
Stable, quick and smooth, versatile, skis like a low 90s ski, FUN, energetic, damp but with great skier feedback, compliant. No detected tip flap. Point and shoot.
Cons:
Every ski has to have a con so I will say I wish the topsheets were different...
Preamble
: Warning, my review may seem like déjà vu all over again. Is this just viral marketing gone wild? If it is, the joke's on Nordica because this ski truly is an instant classic, one that doesn't need any extra hype. I owned the much-lauded Patron and loved it in Steamboat trees but always wished for less rocker and less width underfoot. Nordica took that lower-rise blunt-nose tip profile, reduced the tail rocker substantially, and created the Enforcer. The Enforcer has two sheets of metal and a full wood core.
Ski impressions:
The Enforcer is very smooth and balanced with a lot of energy; it's a fun ski with a serious side when needed. It has a light but solid feel. Overall, I would call it medium stiff. It is very consistent and flexes proportionally: no portion of the ski is substantially softer or stiffer than another. The tips absorb energy very well when slicing through piles or skiing bumps (see photo). Underfoot it is torsionally stiff, and the tail neither folds in a high-speed turn nor kicks your ass if you get a little behind; it's fairly forgiving. The Enforcer engages easily and smoothly; some skis' tips hook up quickly but abruptly, but not these. It's not as precise as a Fischer Motive 95, for instance, but the Fischer has more race DNA in it.
The Enforcer is more "pivoty" than the Fischer and others in the class, but it's not trying to be a ski like those. In some ways it has created its own class. In
soft snow, the tapered tips and tails allow any turn shape at any speed. The Enforcer is plenty stable; when skiing at a pretty good clip through broken snow, I had a lot of confidence in the ski. I'm sure some bigger, stronger skiers might find a speed limit on groomed snow, but I doubt I will.
Ski performance:
These are mounted with Tyrolia Attack demos on the suggested line.
Soft groomers: Wow! FUN! I wasn't expecting the ski to be as quick. The ski does have a fair amount of low rise rocker and tapered tips and tails so I was pleasantly surprised at how well it hooked up, held a carved turn and I could not detect any tip flap. For 100mm underfoot, the Enforcer was quick and smooth. It was quite happy changing turn shape at will. I had a blast with short & medium radius turns along the edges in the softer pushed stuff. The 18.5m TR responds so well to subtle pressuring of the edges and has great energy when arced and released. On long GS turns, the ski was super stable with a large sweet spot. I am not advocating a 100mm ski for groomers but this worked just fine.
Powder: In 8 to 11 in. of mostly untracked powder, it handled just fine. I will use this ski for anything fresh between 4 and 10 in.
Crud: Here's where the Enforcer really started to show its true mettle. Skiing from the center, the Enforcer just blasted through piles; it was a hoot! Damp but not dead at all, just smooth. I was actually working far less through this challenging but fun snow.
Bumps: The Enforcer was right at home in big soft piles with harder scraped-off troughs. It was very easy to "point and shoot" with this ski. The 18.5m radius is quick and responsive; coupled with the dialed flex, again, I was really expending less effort skiing.
Trees: I didn't ski the Enforcer in trees but I ski a lot of Steamboat trees so I have a pretty good idea about what works in the woods. After skiing the bumps, I am confident that the Enforcer will be fantastic in the trees.
Summary
: The Enforcer is a ski that will please almost any level of skier from intermediate up to expert, although advanced intermediates and up will probably get the biggest bang out of it. To me, it is right at home on anything soft. Pair it with an 85-90mm ski, and you have a damn fine two-ski quiver.
Last edited by a moderator: