November 28, 2019
Day 2
Skiers: Carla, Tim, & Erica
There is nothing more beautiful than driving east across the Kancamagus from Lincoln to Conway and watching the sunrise. While yesterday we traveled Rt 2 East to 16 South to ski Wildcat, today we traveled 112 East to 16 North to ski Cranmore. While both mountains are just 19 miles apart from each other, the snow coverage was vastly different. Further north in Pinkham Notch the trees and land were crusted with snow, while in the Mount Washington Valley the trees were bare. Snow was seen in the distance at higher elevations, but there was very little noticeable on the ground. When we pulled into Cranmore it was evident how much work has gone into snowmaking, because while the surrounding landscape was bare, the mountain itself was not. This season was Cranmores earliest opening ever on November 16th. We purchased our tickets online for an early season rate of $39 each for myself and Tim, and $29 for Erica.
Cranmore sporting my new Kulkea Powder Trekker, snowmaking in the background. Thanks Steve!
We started our day at 9am on the Skimobile Express, summiting at elevation 2380. We had a great view north to the Presidentials, and west towards the Moats. Weather was sunny, a true bluebird day without a cloud in the sky, temps in the mid 20's, and no wind. Snow was groomed, and open trails were greens located in the east bowl. We lapped Easy Street, Gibson, East Slope, Upper/Lower Tommy's Trail and rode the South Quad to Upper/Lower Beginners Luck until around noon. The majority of skiers on the mountain were in ski school, wearing bright orange jackets for the seasonal programs. It was really fun to see their excitement, and I witnessed a nail-biting elimination round of rock paper scissors between students and instructors.
Summit on a sunny day!
View of Mount Washington & the Presidential Range
Cranmore selfie. Note how bare the natural landscape is. For those not from New England, this is actually good coverage compared to the threadbare trails we tend to ski in the spring.
The lodge was quiet, which allowed us to really take in the historic pictures proudly displayed on the walls. There are several tributes to Hannes Schneider including a life size bronze statue outdoors, and a hand painted mural on the upper level of the lodge. Hannes is the father of modern skiing, having brought the Arlberg skiing technique to the United States from Austria. What is technically referred to as Snowplough & Stem Christie, is affectionally known as pizza and french fries today. One picture hung on the upper level in the bar area that stood out to me was taking circa 1940, showing about 50+ people walking with skis over their shoulders from the North Conway train depot up to Cranmore. It got me thinking about how far the walk was, and how difficult this might have been. My takeaway: only a serious skier would ever do this. With this in mind, we called it a ski day and walked into town.
North Conway Station, Conway Scenic Railroad. This is the original station where snow trains carried passengers from Boston north into the White Mountains. The depot was very busy today running the "Journey to the North Pole". Such a fun event that reenacts the classic storybook the Polar Express as a fundraiser for children's literacy. Note: this event also runs out of the Hobo Railroad in Lincoln near Loon Mountain. I'll include the link if anyone with little ones is looking for something special to add on to a NH ski trip.
http://www.journeytothenorthpole.org/index.html
Thanks to my activity tracking app, the distance between Cranmore's parking lot & the train depot is 1.26 miles, including an elevation gain of 64 feet. Walking path is through residential neighborhoods, some areas with sidewalks and others without. Very cute old New England style houses with craftsman and Victorian features, old granite posts, and hand built stone walls. North Conway Village is such a fun little area, with a wealth of options for dining and gifts. We browsed the Sun & Ski Shop, Five and Dime, and Zeb's Country Store, where I purchased a fresh supply of maple syrup. We ate lunch at Horsefeather's where I had the house favorite Curried Crab & Asparagus Bisque with a ½ sandwich. This soup was amazing! Then we toured the New England Ski Museum by the depot. While I have frequented the sister museum in Franconia, this was my first visit to the new location in North Conway. They have an amazing "library" of ski journals, books, and resources, as well as exhibits of equipment, lifts, and other memorabilia from the white mountains. From a research perspective this is a goldmine of information! Cost of entry to the museum is free, with donations appreciated. Our last stop was at the Toy Chest, a sweet little toy shop that we have shopped at over the years with the girls. Erica and I wanted to visit Spunky the Frog, but sadly we learned that Spunky departed a few years ago. Spunky originated from a toy grow-a-frog kit (toy kit, but real live frog) and was prominently displayed on the toy store counter for as long as we could remember. He lived to the ripe old age of 28 years, not bad for a frog egg packaged in a box.
North Conway, Zeb's Country Store with a variety of maple syrup products
North Conway New England Ski Museum



New England Ski Museum, display of wood skis. I LOVE these and have been collecting them for years. My plan is to someday build an Adirondack chair with them
New England Ski Museum, display of items from the 10th Mountain Division
We saw several skimobiles throughout the day. There are restored skimobiles at both Cranmore and the ski museum, as well as several in original condition in residential yards we walked by on the way to town. While I did not get any pictures of this iconic lift, I found a great article to best describe their function and history.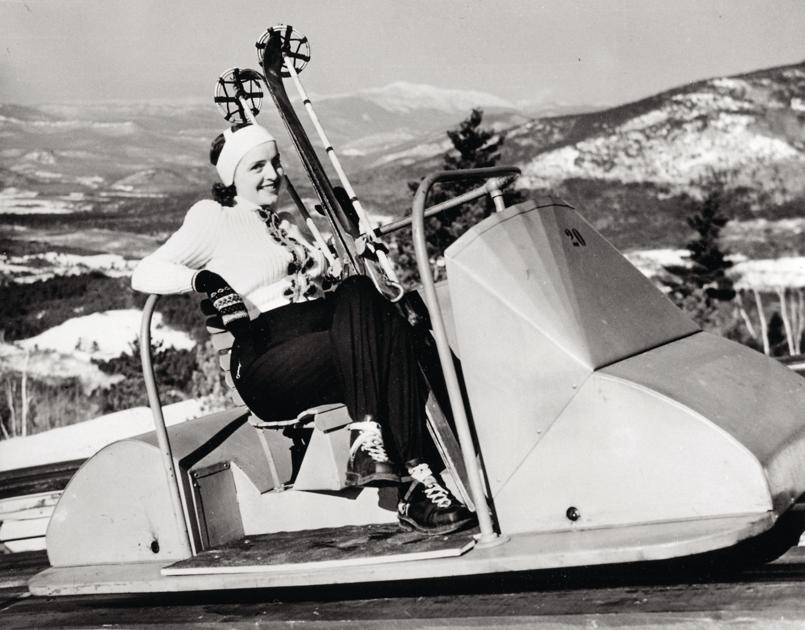 CONWAY — Once earning Cranmore Mountain the moniker of "Kiddie-Kar Hill," the colorful Skimobile was for a time as synonymous with skiing here as Tuckerman Ravine.
www.conwaydailysun.com
I definitely want to return to Cranmore to ski this mountain when it is fully open. I was intrigued by the Gibson Chutes and would also like to see what the original mountain offers. Overall impression: Cranmore is a fun little Tall mountain, with a great family vibe, and endless options for dining and other activities within walking distance. This was my first time ever skiing at Cranmore, and it certainly didn't disappoint. Looking forward to a return visit!
Snowy Wishes,
Carla Frontfive